Construction of a Demonstration Plant Producing Raw Materials for Ethanol from Sugarcane Bagasse has been Completed in Thailand
– Operations Will Start Soon Aiming to Reduce Energy Consumption by 50% or More by Taking Advantage of Japanese Membrane Separation Technology –
July 6, 2018
New Energy and Industrial Technology Development Organization (NEDO)
Toray Industries, Inc.
Mitsui Sugar Co., Ltd.
Mitsui & Co., Ltd.
NEDO, Toray Industries, Inc., Mitsui Sugar Co., Ltd., and Mitsui & Co., Ltd. completed the construction of a demonstration plant in Thailand that will have the world's largest production capacity utilizing bagasse. The plant can produce cellulosic sugars from bagasse—residue left after extraction of juice from sugarcane—to be used as a raw material for bioethanol production. It can also produce high value-added products such as polyphenols and oligosaccharides.
During the demonstration project, Japanese membrane separation technology will be used to concentrate the sugar solution made from bagasse with the aim of reducing energy consumption by 50% or more compared to that of a conventional concentration process using an evaporation method. Operations will start late this month to verify efficient energy conservation and the effectiveness of manufacturing high value-added products using the process. It is expected that the system will be widely utilized in Thailand, which is one of the world's major sugarcane producers.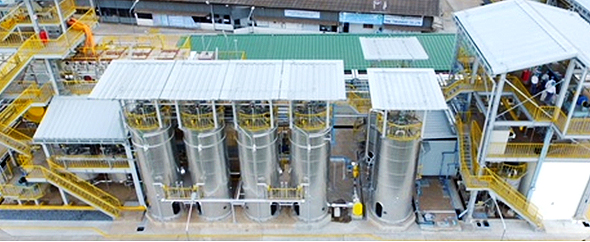 Figure 1 Demonstration plant
Project name:

International Demonstration Project on Japan's Energy Efficiency Technologies: Demonstration Project for an Energy-Saving Cellulosic Sugar Production System Using Bagasse

Planned project period:

FY2016 to FY2022

Processing capability:

5,000 t/year of bagasse on a dry weight basis

Cellulosic sugar production capacity:

1,400 t/year (equivalent to 700 kl/year of bioethanol)

Entrusted companies:

Toray Industries, Inc.; Mitsui Sugar Co., Ltd.; and Mitsui & Co., Ltd.
1.Overview
The Government of Thailand has actively addressed the introduction of renewable energy. The Alternative Energy Development Plan 2015 formulating Thailand's energy policy from 2015 to 2036 set a target to achieve a scenario in which renewable energy would account for 30% of energy consumption by 2036. Thailand 4.0 was also established in 2015 as Thailand's long-term economic development plan. Its growth strategy for the 20 years from 2017 to 2036 includes the biochemical product industry, which is expected to be increasingly active as a new engine of growth in Thailand.
Against this backdrop, NEDO has focused on inedible biomass, called "bagasse," which remains after sugarcane juice is extracted. Bagasse contains many useful materials. However, it has only been minimally used as fuel to generate power. In order to fully utilize this untapped biomass, NEDO and the National Innovation Agency of Thailand's Ministry of Science and Technology concluded a memorandum of understanding in August 2016 regarding a demonstration project for the efficient use of bagasse and then proceeded with plant design and construction for a demonstration.
NEDO, Toray Industries, Inc.; Mitsui Sugar Co., Ltd.; and Mitsui & Co., Ltd. recently completed the construction of a demonstration plant in Udon Thani Province. The plant will have the capacity to produce useful materials from bagasse at the world's highest level (production capacity: 1,400 t/year of cellulosic sugars, equivalent to 700 kl/year of bioethanol; 250 t/year of polyphenols; and 450 t/year of oligosaccharides). The plant employs a bioprocess using membrane technology*1 developed by Toray to process bagasse to produce cellulosic sugars, which will be used as raw materials for bioethanol or other chemical products. In addition, the facilities are also designed to produce high value-added products such as polyphenol and oligosaccharide in an efficient manner. The plant will start operations in late July, 2018. The target of the demonstration project is to achieve a 50% reduction in energy consumption during production of useful materials compared to that of the conventional process of sugar solution evaporation.*2
On July 6 (local time in Thailand), NEDO's entrusted companies held a completion ceremony prior to the start of demonstration operation in the presence of representatives from the governments of Japan and Thailand, the local government of Udon Thani Province, and personnel from constructors and other companies in Thailand engaged in the project.
Figure 2 Process flow for producing useful materials such as cellulosic sugars,
oligosaccharides, and polyphenols from bagasse

Figure 3 Demonstration plant including the facilities of Cellulosic Biomass
Technology Co., Ltd.*3 showing the location of each process
2.Next step
The demonstration plant is planned to operate until FY2022 to evaluate and verify the effectiveness of energy saving, the quality of products, the economic efficiency of the system, and other results. After the project is completed, NEDO will support sugar companies who output bagasse in building and operating plants to produce useful materials by making the most use of project results. NEDO will also carry out training seminars and promotion activities to disseminate energy-saving technology for producing useful materials by means of polymer membranes, with the aim of widespread use of the system across Thailand.
Notes:
※1 Bioprocess using membrane technology

Technology that can enable the production of high quality and low cost sugar materials from inedible biomass while saving approximately 50% of energy in refining by applying separation membranes for water treatment to saccharification and refining processes.

※2 Process of sugar solution evaporation

The conventional process is to evaporate water from sugar solution using heat, which requires a lot of energy. The demonstration system can reduce energy consumption by using polymer membrane technology for concentration.

※3 Cellulosic Biomass Technology Co., Ltd.

A joint venture company established by Toray Industries, Inc. and Mitsui Sugar Co., Ltd. in January 2017.
3.Contacts
For more information about this news release, please contact:
NEDO Materials Technology and Nanotechnology Department
Contact person: Yoshii Tel: +81-44-520-5220­
NEDO International Affairs Department
Contact person: Ishimori Tel: +81-44-520-5190­
Toray Industries, Inc. Corporate Research Planning Dept. R&D Planning Dept.
Contact person: Sawai Tel: +81-3-3245-5521­
Mitsui Sugar Co., Ltd. Research & Development Division
Contact person: Miyazaki Tel: +81-3-6758-6166­
Mitsui & Co., Ltd. Corporate Communications Division
Contact person: Tatsumi Tel: +81-3-3285-7562­