CHAdeMO High-Power Fast Chargers Installed for DRIVEtheARC EV Demonstration Project in Northern California
- Rolling Out App-Based Reservation System for EV Charging -
April 3, 2019
New Energy and Industrial Technology Development Organization (NEDO)
Nissan Motor Co., Ltd.
Kanematsu Corporation
NEDO, Nissan Motor Co., Ltd., and Kanematsu Corporation have installed a 100 kW CHAdeMO high-power fast charger for electric vehicles (EVs) for a demonstration project called DRIVEtheARC that was launched in 2015. The project is designed to encourage the use of EVs in the U.S. State of California. The charger's output is two times larger than conventional fast chargers, which can potentially shorten charging time.
In addition, the DRIVEtheARC smartphone app for the project has been upgraded to enhance user convenience. One of the newly developed features is a reservation feature which can be used with a reservation-only charger at Pacific Pearl, Pleasanton CA. EV drivers can view real-time availability of the specific charger mentioned above and reserve charging time in advance.
These improvements to hardware and software are expected to further enhance the demonstration project. By installing a fast charging station, the project aims to investigate how a fast charging network can contribute to expanding EV driving behavior and also improve the accuracy of EV driving behavior data analysis.
In addition to multifaceted data analyses of driving and charging behavior for EVs having different battery capacities, the charging behavior of EV drivers using the charging reservation service will also be studied to explore how to best enhance user convenience.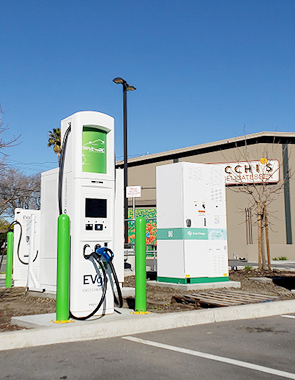 Figure 1: CHAdeMO high-power fast charger
1.Overview
Amid growing efforts to promote EV adoption worldwide, the United States focused on EVs at an early stage of their deployment and has been making various efforts to promote their dissemination. The State of California, in particular, has set a goal of having five million zero-emission vehicles (ZEVs) on its roads by 2030 and it requires manufacturers to sell specific numbers of low-emission cars, such as EVs and plug-in hybrid vehicles, based on the scale of each manufacturer's sales in California. The state's ZEV regulations also allow EV drivers to access carpool lanes on highways. Due to its robust policy, California is currently the leader in private EV sales in the United States. However, even in EV-friendly California, EVs are mainly used for short-distance travel in urban areas where a charging infrastructure is relatively easy to access.
Against this backdrop, NEDO, Nissan Motor Co., Ltd., and Kanematsu Corporation launched the DRIVEtheARC project in 2015. The project's goal is to expand the use of EVs and extend their cruising distance through expansion of an inter-city charging network and real-time information services. On November 14, 2017, 55 DC 50 kW fast chargers started operation at 25 charging stations located along an inter-city route stretching 530 kilometers from Monterey to Lake Tahoe*1.
Given the market trend of increasing EV battery capacity, one CHAdeMO high-power fast charger has been installed to reduce charging time*2. The 100 kw output of the charger is based on actual market needs and in consideration of optimum cost-efficiency. The charger has been designed to be easily upgradeable for even higher output as technology advances. A second CHAdeMO high-power fast charger will be installed in May 2019. Multifaceted data on driving and charging behavior will be collected by comparing EVs equipped with large-capacity batteries with higher power charging capability and EVs equipped with small to medium-capacity batteries without higher power charging capability.
Since November 2017, the DRIVEtheARC smartphone app has been available to EV drivers. Following improvements made to previously established services, EV drivers can now view real-time charger availability and reserve a charging time in advance. By offering this reservation service, the project aims to ease congestion at charging stations in urban areas. The project will also analyze data related to EV driver reservations and usage history at charging stations to explore how best to enhance user convenience and extend vehicle cruising ranges.
Figure 2: Reserving charging times using the DRIVEtheARC App
2.Future Plans
By studying how the DRIVEtheARC network affects the driving and charging behavior of EVs with different battery capacities and by collecting and analyzing the usage history of EV drivers at charging stations, forecasts will be developed for busy times at charging stations, statistics will be collected on the behavior of EV drivers, and system performance will be optimized. Through the demonstration project, Nissan and Kanematsu seek to compile real-time EV data and explore big-data business opportunities.
Notes:
3. For more information, please contact:
NEDO Smart Community Department Tel: +81-44-520-5274­
Nissan Corporate Communications Division Tel: +81-45-523-5521­
Kanematsu Public & Investor Relations Section Tel: +81-3-5440-8000­