Research and Development Project of the Enhanced Infrastructures for Post-5G Information and Communication Systems
Project overview
Project Period: FY2020 onward, Budget: JPY 795 billion
In many countries, 5G mobile communication systems more advanced than their 4G predecessors have already been launched as commercial services. Post-5G systems, which possess even more advanced capabilities, such as ultra-low latency and multiple simultaneous connections, are expected to become a cornerstone for Japanese competitiveness in years to come. Post-5G technologies are also expected to be utilized in a variety of industrial applications, such as smart manufacturing and autonomous driving. In addition, such technologies are essential to realizing both a digital society and carbon neutrality.
This project aims to develop core post-5G technologies and enhance Japanese R&D and manufacturing infrastructure for post-5G information and communication systems.
More specifically, as well as developing post-5G information and communication systems and advanced semiconductors to be used in such systems, the project promotes the development of technologies for manufacturing advanced semiconductors so that Japan ensures its manufacturing capability in this sector.
Overview of R&D items
1. Development of post-5G information and communication systems (Commission, Subsidy)

The item aims to promote the development of systems important for realizing the levels of performance required in the post-5G era, and development of technologies for semiconductors used in these systems.

2. Development of manufacturing technologies for advanced semiconductors (Subsidy, Commission)

Through the creation of pre-commercial manufacturing "pilot lines" and other activities, the item aims to promote the development of manufacturing technologies for leading-edge products, such as logic semiconductors which are not currently available in Japan. (Subsidy)
The item also promotes the development of core technologies where Japan ensures a competitive advantage, such as system design technologies for advanced semiconductors, technologies for realizing commercial-scale manufacturing technologies related to packaging and miniaturization. (Commission)

3. Feasibility Study (Commission, Subsidy)

Feasibility studies related to R&D items 1 and 2 are also conducted. This item covers technologies that may not be ready for commercialization in the post-5G era but may be promising in the latter half of the post-5G era and the next generation.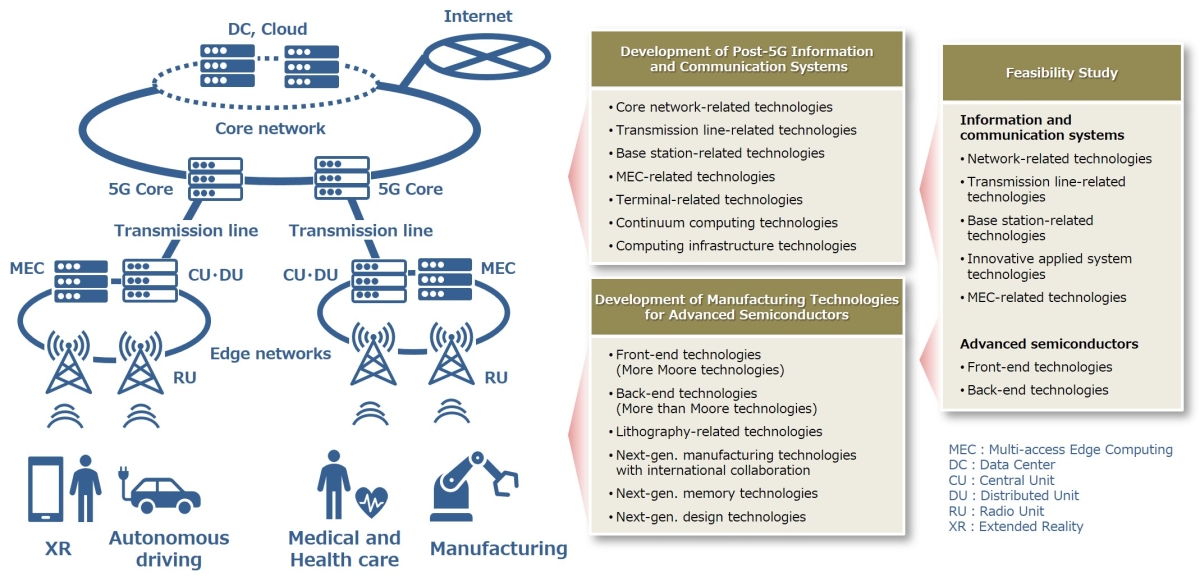 Diagram of R&D project
Basic information
Technical field
Project code
Department in charge

Internet of Things Promotion Department
Post-5G Project Promotion Office
Inquiry form:

Post-5G R&D Project Inquiry
Please use the above inquiry form to contact NEDO. We will reply as soon as possible.
Last Updated : May 23, 2023