NEDO Selects 13 R&D Projects Under Moonshot Goal Targeting Recovery of Global Environment
―Challenging R&D will be promoted, such as Direct Air Capture of CO2―
August 26, 2020
New Energy and Industrial Technology Development Organization (NEDO)

The New Energy and Industrial Technology Development Organization ("NEDO") has selected 13 R&D projects aimed at achieving the Moonshot Goal "Realization of sustainable resource circulation to recover the global environment by 2050."
In this program, challenging R&D will be promoted, such as technologies to capture CO2 directly from the atmosphere and convert it into valuable materials, technologies to convert low-concentration nitrogen compounds which are released from farmlands or factories into harmless and useful materials, and development of biodegradable plastics which degrade with appropriate timing and speed when they flow into the sea.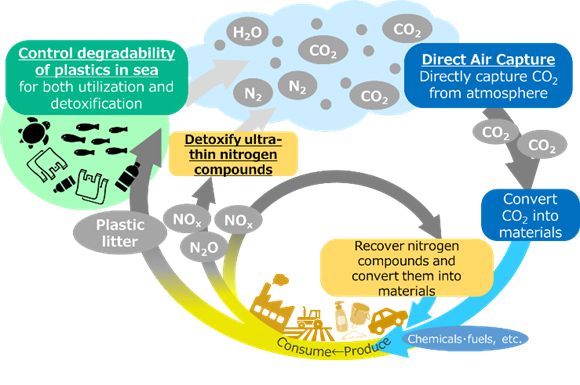 R&D to be promoted for realization of sustainable resource circulation
Project Outline
The Moonshot Research and Development Program*1 was established with the aim of creating disruptive innovations developed in Japan and advancing challenging research and development based on bolder ideas going beyond the mere extension of existing technology. In January 2020, six Moonshot Goals*2 were determined by the Council for Science, Technology and Innovation ("CSTI").
Among the six goals of the Moonshot Research and Development Program, NEDO will implement challenging R&D to accomplish Moonshot Goal 4 "Realization of sustainable resource circulation to recover the global environment by 2050" and realize the R&D concept formulated by the Ministry of Economy, Trade and Industry ("METI"). In order to advance the program, NEDO designated Dr. YAMAJI Kenji, Senior Vice President, Director-General of the Research Institute of Innovative Technology for the Earth (RITE) as the program director, and through the public call process, selected 13 R&D projects and appointed project managers to oversee each of the projects (please refer to Document 1 below).
Specifically, in order to address issues such as global warming, environmental pollution caused by nitrogen compounds, and marine plastic litter, NEDO is promoting:
(1) Development of technologies to recover greenhouse gases ("GHGs") and convert them into valuable materials
(2) Development of technologies to recover nitrogen compounds and convert them into harmless or useful materials
(3) Development of marine biodegradable plastics which can control the timing and speed of their degradability
【References】
【Notes】
*1 Moonshot Research and Development Program

For further program details, please refer to the following:
Moonshot Research and Development Program

*2 Moonshot Goal

Moonshot Goals 1 through 6 were determined by CSTI in January 2020. In addition, Moonshot Goal 7 was determined by the Headquarters for Healthcare Policy in July 2020.

Moonshot Goal 1: Realization of a society in which human beings can be free from limitations of body, brain, space and time by 2050
Moonshot Goal 2: Realization of ultra-early disease prediction and intervention by 2050
Moonshot Goal 3: Realization of AI robots that autonomously learn, adapt to their environment, evolve in intelligence and act alongside human beings, by 2050
Moonshot Goal 4: Realization of sustainable resource circulation to recover the global environment by 2050
Moonshot Goal 5: Realization of the industry that enables sustainable global food supply by exploiting unused biological resources by 2050
Moonshot Goal 6: Realization of a fault-tolerant universal quantum computer that will revolutionize economy, industry, and security by 2050
Moonshot Goal 7: Realization of sustainable care systems to overcome major diseases by 2040, for enjoying one's life with relief and release from health concerns until 100 years old
2.Documents
3.For more information, please contact:
NEDO Innovation Promotion Department, Moonshot Research and Development Program Office
E-mail:moonshot-office@nedo.go.jp